Beauty & Self
Books & Music
Career
Computers
Education
Family
Food & Wine
Health & Fitness
Hobbies & Crafts
Home & Garden
Money
News & Politics
Relationships
Religion & Spirituality
Sports
Travel & Culture
TV & Movies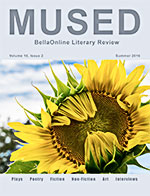 For many people, summertime is the perfect time to explore creativity. Plein air artists bring easels to gardens and beaches, showcasing nature's colors in oils, acrylics, and watercolors. Photographers ferret out a million sights to immortalize. Poets and writers stretch languidly beneath a shady oak tree, listening to the gentle buzz of insects, and constructing entire worlds out of the ether.

Enjoy the creativity of our community of artists - and then explore your own! We'd love to see your works for upcoming issues!

Summer Solstice 2016 issue of Mused

19th Amendment Ratified
History - Vance Rowe, Editor

On August 26, 1920, the 19th Amendment was ratified, finally giving women the right to vote.




How to Make the Bookry Memory Widget
Flash and Animation - Diane Cipollo, Editor

In this Bookry for iBooks Author tutorial, we will create the Memory widget for a holiday digital book created in iBooks Author. One of the nicest features of this Bookry widget is that you can customize all the graphics for the widget to match the theme of the book.




Spicy Tofu Salad Recipe
Chinese Food - Lila Voo, Editor

A delicious mix of baby and romaine lettuces, mushrooms and green onions is topped with lightly fried, spicy pieces of tofu. Served with a spicy Asian dressing, this tofu salad makes the perfect lunch.




Planting and Caring for Pomegranate Plants
Landscaping - Connie Krochmal, Editor

Pomegranate is easy to transplant. It requires a minimum of care and is generally free of pests and diseases.




Your Fifth Amendment Rights
Crime - Vance R. Rowe, Editor

We have all heard the Miranda Warning being given and most of us can recite it, but, do you know what the Miranda Warning actually gives you protection against and what it doesn't protect you from?




Sketchpad Widget at Bookry - The Graphics
Digital Art and Design - Diane Cipollo, Editor

The Bookry Sketchpad widget for iBooks Author is one of the most creative widgets of all their widgets. It gives the readers the opportunity to express their creative interpretation of the book's story.


| Google+ |
E D I T O R R E C O M M E N D E D
Experiencing God


The Creator of heaven and earth. Our God is given names in Scripture that describe characteristics of His personality. Experience God through the names given Him in Scripture.
Ultra Luster Waterless Car Wash


Ultra Luster Waterless Car Wash: Article Coming in Spring but you can buy it now! Waterless Car Washing just got easier and the results just got better! Get yours now at: UltraLuster Wash, Phone: 877-677-4463, Email: sales@ultralusterwash.com, distributors@ultralusterwash.com shipping@ultralusterwash.com customerservice@ultralusterwash.com
Low Carb - First Two Weeks


Get instant access to step by step instructions, handy tips to get you through the rough spots, background information on low carb dieting, and more.