Beauty & Self
Books & Music
Career
Computers
Education
Family
Food & Wine
Health & Fitness
Hobbies & Crafts
Home & Garden
Money
News & Politics
Relationships
Religion & Spirituality
Sports
Travel & Culture
TV & Movies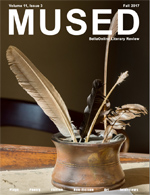 Autumn is a season for counting our blessings. For realizing just how much we have in life where so many others are without. It can often be easy to take things for granted. Things which millions of people desperately dream of having. By pausing for a moment, and looking around with mindfulness, we can find a new center. Begin with fresh energy.

Enjoy the Mused Autumn Equinox 2017 Issue



Imagiknits
Knitting - Korie Beth Brown, Ph.D., Editor

Next time you're in San Francisco, make your way to Imagiknit for some serious knitspo!




Lake Perris
California - Korie Beth Brown, Ph.D. , Editor

In Riverside County, there's a beautiful desert lake ready for your year-long swimming pleasure!




Half Pigeon Pose
Yoga - Korie Beth Brown, Editor

Ardha Kapotanasana, as the pose is called in Sanskrit, is one of the strongest stretches for your gluteal muscles, but the supine variation is best for beginners.




Parenting Kids with ADD During Holidays
Attention Deficit Disorder - Connie Mistler Davidson, Editor

Especially during the holiday season, parenting kids with Attention Deficit Disorder, can be a challenge. Traveling to different places to see family and friends can be a time of joy, but it can also test the strongest nerves. These articles can be helpful in parenting kids during the holidays.




A Dozen Fresh Turkey Sandwich Ideas
Sandwiches - Connie Mistler Davidson, Editor

There are certain times during the year when there is an overabundance of leftover turkey in the fridge. It's great for sandwiches, but sometimes you need some fresh new turkey sandwich ideas. This article is for you!




Death to Diabetes Book Review
Reading - Connie Mistler Davidson, Editor

There are so many reasons to read for information. Cookbooks teach us more than how to create edible masterpieces. Nutrition and health books abound. One of the best of those that I have ever read is Death to Diabetes, by DeWayne McCulley, a must-read if you have a loved one with diabetes.


| Google+ |
E D I T O R R E C O M M E N D E D
Make Clothes for 18 Inch Dolls


With this book you can make a complete wardrobe for 18 inch dolls; including dresses, pants, jewelry, a bag and a crocheted outfit.
Eagle One is 2nd to None!


Everyone should have the basics to keep their rides shiny and road ready. The only way to do it is with Eagle One all day long!
Phoenix Rising


"No Eyes", a very wise, very insightful Shaman Indian takes Mary Summer Rain on a rare journey into the future where warnings of upheavals and challenges are gently yet thoroughly revealed out of love and preservation for her beloved Mother Earth.